by Juan Cole

Iraqi authorities said Saturday
that they have a videotape of the shootings in Nisur Square last
Sunday by Blackwater security guards, which shows that they fired without provocation. The company has maintained that its personnel were responding to incoming fire. There is now talk in Baghdad of trying the guards, though a decree by US viceroy Paul Bremer may hold the US nationals harmless.
Meanwhile,
charges surfaced that Blackwater employees had shipped weapons to Iraq without proper paperwork
, which could be interpreted as a form of arms smuggling. The company denies the charges.
Meanwhile, Iraqi President Jalal Talabani wrote a letter to Gen. David Petraeus and Ambassador Ryan Crocker demanding that Iranian national Farhad Aghaie be released. The US military detained him in Sulaimaniya, alleging that he is actually an Iranian intelligence officer. Talabani seems confused as to whether he is president of Iraq or a representative of the Kurdistan Regional Government, since he complained that the US raid injured the sovereignty of the KRG. Uh, I don't think provincial administrations have sovereignty. And, shouldn't Talabani be representing the interests in sovereignty of all the provinces?
Plus, Mam Jalal, if you are a president and have to plead with a foreign general to release your own guest from prison, you don't have any sovereignty left and haven't had for some time. You've been colonized.
Al-Hayat reports in Arabic that former prime minister Ibrahim Jaafari
visited Grand Ayatollah Ali Sistani in Najaf on Saturday. Jaafari was expected to meet with representatives of the Sadr Movement later that day. Al-Hayat says that two main interpretations of the visit have been put forward. One is that Jaafari is attempting to repair the rifts in the United Iraqi Alliance, the ruling Shiite fundamentalist bloc created by Sistani in the fall of 2004. In that case he was getting Sistani's blessing for the effort and seeking his intercession with Muqtada al-Sadr, who has withdrawn his bloc from the coalition.
The second interpretation is that Jaafari is attempting to make a new bloc in parliament that would include the Sadrists, and which would undermine Prime Minister Nuri al-Maliki. In that case he was seeking Sistani's blessing for the effort or at least ensuring that the grand ayatollah was not dead set against it.
Al-Hayat also reports on the worsening security situation in the south. It reports one member of the federal parliament as complaining about a wave of assassinations in Basra. Some 100 persons were cut down just in the past week, he alleged, including two aides to Sistani. He demanded the resignation of the Basra police chief and threatened a vote of no confidence against the minister of the interior if nothing was done to stem the killings.
Sawt al-Iraq in Arabic
says that not just one but several parliamentarians are called for the resignation of Minister of the Interior Jawad al-Bulani because of the downward security spiral in the south.
The head of the parliamentary committee on security, Hadi al-Amiri, agreed about the worsening situation but said that the security forces were doing the best they could. Al-Amiri is head of the Badr Organization paramilitary, attached to the Islamic Supreme Council of Iraq (ISCI), and many police and other security men in Basra were drawn from Badr. So, ironically, the head of the parliamentary security committee is also the leader of one of Iraq's best-trained Shiite militias.
Brazil is giving asylum to the Palestinian refugees whose families were expelled from their homes by the Israelis in 1948 and who had taken refuge in Iraq
, but now have been forced out of Iraq, as well. (Argentina will take some, too). The Palestinians are the eternal Boat People. It would have been better for them to be able to go home than to a Portuguese speaking country half way around the world. But, well, Rio is rather better than three years in a tent in the desert, and at last they are no longer stateless. But on what will they live? It would be nice to send them some charity. If anybody knows how, please post in comments. (Brazilian Red Cross e.g.?)
At the Global Affairs group blog
, Gershon Shafir reads the tea leaves on the possibility of a Hamas truce with Israel.
UN Human Rights chief Louise Arbour
has expressed alarm about recent Israeli statements on depriving Gaza of humanitarian infrastructure.
At the Napoleon's Egypt Blog
, the naked truth about Mamluk theft of French officers' uniforms.
Known and very popular cialis coupon which gives all the chance to receive a discount for a preparation which has to be available and exactly cialis coupons has been found in the distant room of this big house about which wood-grouses in the houses tell.
Pentagon Report Gives Lie to Surge Success
An
article on how the schedule for turning Iraqi provinces over to the Iraqi army and police for security purposes has slipped
to August 2008 notes of a new Pentagon report:
' The Pentagon report cited a litany of problems with the police. For example, it said as few as 40 percent of those trained by coalition troops in recent years are still on the job. Also, due to combat loss, theft, attrition and poor maintenance, a "significant portion" of U.S.-issued equipment is now unusable.'
Just to underline what is said here,
60 percent
of the policemen who got even the very minimal training on offer to them have disappeared from the force; and
not much is left of the weaponry
("equipment") that the US gave the Iraqi police.
The
report is here (pdf)
.
The report also has two graphics that should make us
very
suspicious about all the declarations that the troop escalation or 'surge' has significantly reduced violence in Iraq. I cut the graphs in half, so they show only 2006 and 2007 and relabled them, but you can scroll down at the pdf link above to see the originals. I did not modify them in any other way.
The first graph shows
average daily casualties
(dead and wounded badly enough to go to hospital) by month in Iraq.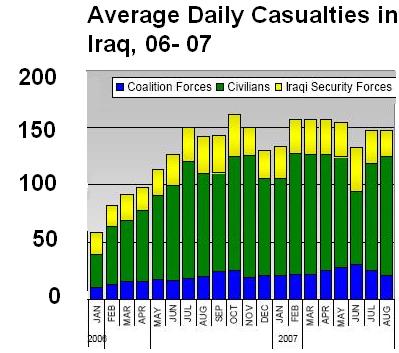 This graph shows that there was no significant reduction in daily
casualties
in Iraq this summer. June saw a dip, mainly in civilian Iraqi casualties; coalition and Iraqi security force casualties were as bad as ever. Since the reduction in civilian casualties was not sustained, it is not significant, and could just have been a fluke (a few car bombs in markets failed to kill as many people as usual, e.g.) Somewhere around 150 persons continued to be killed or wounded every single day according to this chart, with a very minor daily reduction in the hot months of the summer when it is harder to fight.
The second graph gives the number of
attacks
per month. Obviously, a lot of attacks produce no casualties. Mortars land uselessly in the desert, e.g.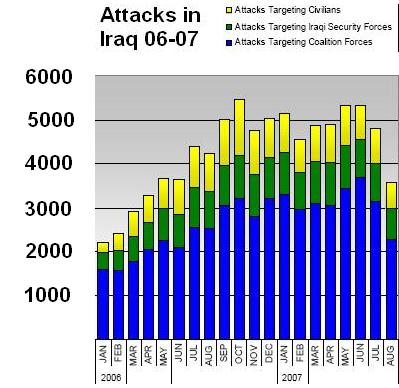 This graph shows that with regard to attacks May and June (when the 'surge' was well under way) were two of the most violent months ever since the US occupation of Iraq began. The June average was 177.8, the highest ever seen. July was more like the violent fall-winter 2006 than it was like the slightly less violent summer.
The graph does show a reduction in
attacks
for August, but what I notice is that the reduction in attacks did not come with regard either to Iraqi civilians or Iraqi security personnel, which seem the same height as previous months. The only significant reduction for August was with regard to attacks on coalition forces. (Since troop casualties do not seem to have been down very much for August, this statistic suggests that there were fewer attacks but they were more deadly. That is
not
good news.)
The Pentagon is trying to give us the impression that August was a 'trend', but statistically that is silly, since it was just one month and what came before it was pretty horrible. The dip in attacks in August does not seem to have come with much of a dip in casualties, in any case. And if all that is happening is that fewer US troops are being attacked, but similar numbers are being wounded or killed, I'm not sure that is even significant. Since some of the attacks were on the British in the south, changes in the way they were deployed could have had a small impact on these statistics.
The Pentagon tells us that violence in Baghdad is back down to the levels of summer, 2006. But whether that is true or not, the generalization cannot be made for Iraq, by the Pentagon's own statistics. If you do a three-month rolling average for months prior to September, whether you look at numbers of attacks or numbers of casualties, there has not been a significant improvement with regard to violence in the country as a whole.
Juan Cole was born in October 1952 as "John Ricardo Cole" to a military family; from the beginning, his family called him "Juan." His father was stationed in Albuquerque, NM at the time of Cole's birth. In addition to this and other USA locations, Cole's father did two long tours in France (a total of seven years) and one 18-month stay at Kagnew Station in Asmara, Eritrea (then Ethiopia).

Cole reports that he first became interested in Islam in Eritrea, which has a population roughly half Christian and half Muslim. After completing an undergraduate degree at Northwestern University (see below), Cole pursued Islamic and Middle Eastern studies at the American University in Cairo and the University of California Los Angeles, and ultimately joined the faculty at the University of Michigan.

Cole married the former Shahin Malik in Lahore in 1982. The couple have one son, Arman, born in 1987 Cole became a member of the Baha'i Faith in 1972 as an undergraduate at Northwestern, and the Baha'i religion later became a focus of his academic career. Cole officially separated himself from the religion in 1996 after disputes with Baha'i leadership concerning the Baha'i system of administration. Cole has personal and professional experience in the Middle East and South Asia having lived for six years in the Arab world, and another two and a half in South Asia. He worked as a newspaper reporter in Beirut, Lebanon in the late 1970s and lived in Cairo, Egypt.

He has continued to visit the region in the past 15 years, as stated in his blog, in order to keep in touch with the "pulse of opinion and changing local views." Cole is fluent in modern standard and colloquial Arabic, Urdu and Persian, and has a command of Turkish. He was awarded Fulbright-Hays fellowships to India (1982) and to Egypt (1985-1986).

From 1999 until 2004, Juan Cole was the editor of The International Journal of Middle East Studies. He has served in professional offices for the American Institute of Iranian Studies. He was elected president of the Middle East Studies Association of North America in November 2004. In 2006 Cole was nominated to teach at Yale University and was approved by Yale's sociology and history departments; however, the senior appointments committee overruled the nomination.Cole continues to teach at the University of Michigan.

He blogs at www.juancole.com



* 1975 B.A. History and Literature of Religions, Northwestern University.
* 1978 M.A. Arabic Studies/History, American University in Cairo
* 1984 Ph.D. Islamic Studies, University of California Los Angeles
* 1984-1990 Assistant Professor of History, University of Michigan
* 1990-1995 Associate Professor of History, University of Michigan
* 1992-1995 Director, Center for Middle Eastern and North African Studies, University of Michigan
* 1995- Professor of History, University of Michigan
More from this author:
Related Articles:
---
Add this page to your favorite Social Bookmarking websites
|
More...
TrackBack URI for this entry
Comments
(2)
Subscribe to this comment's feed
Write comment